The Summer Selling Season is Almost Here!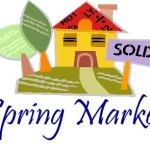 I have a couple of observations as we get close to the beginning of the summer selling season:
1. Real estate activity is starting to pick up. More houses are starting to come on the market and buyers are starting to get pre-approved for a mortgage.
2. As the market starts to come alive, sellers are testing the market by pricing their houses aggressively. If you are a seller, you must know and understand the local market so that you are able to price your house appropriately and achieve the highest possible sale price.
3. If you are a buyer, NOW is the time to start the pre-approval process. Once you are pre-approved you will be ready to move forward when you find your dream house!
And perhaps the biggest indicator that the real estate market is heating up is that three people have asked me for advice about getting their real estate license over the past month! Many new real estate agents will NEVER practice full time and most will move on to the next adventure after only a few months.
Real estate agents come and go as the market ebbs and flows. A professional real estate agent has been around and stayed the course in strong markets and when the market is soft. Your real estate deal deserves the attention of an experienced real estate professional!
Home Buying Checklist
Find an agent
Some real estate agents work for sellers or buyers, some agents try to work for both at the same time, and there are agents that just work for buyers. The latter companies are called Exclusive Buyer Agent Companies (EBA). Your real estate agent will be like the captain of your real estate team. Your experienced agent has done this many times before and will help to guide your team toward a successful transaction. Find a good real estate agent that you trust to represent YOUR interests whether you are a buyer or a seller.
Obtain a Mortgage Pre-Approval
If you will be getting a mortgage, a pre-approval will allow you to shop for a new house with confidence! A good real estate agent will be able to help you find a reliable mortgage lender. Choose a lender based on their proven ability to get the job done correctly first, then consider the costs. Obtaining a pre-approval letter before you start your search for a new house is extremely important in this market. Your real estate agent can provide you with referrals to mortgage lenders who will help you get a mortgage. It is NEVER a good idea to work with a lender who is affiliated with a real estate agent or to work with a combination real estate agent / mortgage broker. Run away – AS FAST AS YOU CAN – from a real estate agent who ALSO wants to be your mortgage broker!
Start looking at homes
You can usually visit eight or ten homes in a well-planned day with a well-prepared real estate agent. Open houses typically are not the best use of time because they are only a small indication of the inventory of available homes.
Narrow down your choices
Start cutting down your list to a target group of two or three homes. Then make a second visit to do a "detailed" viewing. This way, you will always be aware of your best alternative if your top pick doesn't work out.
Research purchase contracts
Don't wait till the day you need to sign a contract to look at one. Your agent should be reviewing the documents, the processes, and the local customs for negotiations and contingencies with you while you are still searching for a home. You'll be much more confident when the time comes to "sign on the bottom line." (I am always happy to go over the offer and purchase documents with you. I can also send you blank copies of the standard forms if you would like to take a look – just ask me! -TB)
Start negotiating
Once you decide on a specific home, make an offer immediately. Your negotiating position gets dramatically worse if another buyer starts negotiating on the same home before you have a contract signed.
Check comps
If you haven't already seen comparable sales data by now, this is the time you need to be reviewing it to know how much you should be paying for the home. If the market values are stagnant or dropping, you also need to consider market inventory and absorption rate. Comparable sales, market demand and inventory should always be considered when deciding on an appropriate offer price. (Click Here to learn more about "The Comps")
Shop for a mortgage
Now that you have a contract, you can shop for the best mortgage deal. Remember, focus first on the lenders that you know will get the job done, then make cost comparisons to find the best deal. Use our mortgage calculator to help figure out your monthly payments. (This brings up a good point. The lender who provided you with your pre-approval letter when you started shopping for your new house is not necessarily the mortgage lender who you will get your loan from. After your offer is accepted and your escrow is opened, you will have a couple of days to shop for the BEST rate and terms. I can help you evaluate your mortgage loan options. -TB)
Get the home inspected
Make sure to have your place checked out for lead, termites, radon, and/or other concerns.
I am always available to discuss your new house purchase and to help you assemble your real estate team!
Bregman Properties is your neighborhood specialist. We are available to answer your questions, to provide advice and to negotiate your real estate transaction with your best interest as our primary focus. We are always ready to provide you with outstanding representation for all of your real estate related needs. "Experience the Difference"