Foreclosures – Ready for a Comeback?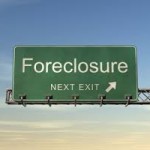 The Floodgates Have Closed:
It has been a few years since we experienced the flood of distressed property sales that sent the real estate market for a loop just a few short years ago. For the most part, foreclosures and short sales are not anywhere near as common as they were during the height of the real estate meltdown. A reduction in the number of distressed properties has had a stabilizing effect on the local real estate market.
The Next Waive: While the article below discusses one possible scenario for an increase in foreclosure properties, I believe that an even bigger waive is on the horizon. Many of the federally subsidized housing programs (FHA, Cal Vet etc) make it possible for buyers with minimal or even zero down payment, and possibly questionable financial stability, to borrow money to purchase a house.
As a result of government sponsored lending to buyers who would not otherwise be able to qualify for a mortgage through traditional channels, I believe that we will see an increase in foreclosures of properties that were purchased with government sponsored programs over the next three to five years.
Find out what your house is worth:
Click Here
Let Me Help You Find Your new home:
Click Here
I appreciate Your Referrals = Easy Money!*
*I will send you a check for $500
when your referral's escrow closes!
(Click Here for More Details)
Foreclosures Ready for a Comeback
Although the worst days of the home-foreclosure crisis may be behind us, the epochal wave of lost homes isn't over, and appears to be swelling once again.
Foreclosures ARE Down
It's heartening to know that the past year saw a decline in the number of mortgages that are past due, thus reducing candidates for foreclosure in coming months or years. Nevertheless, in January, lenders started more new foreclosure actions than they had in any month since December 2013, according to a report by Black Knight Financial Services. January's total of 94,300 new foreclosure starts was up 5.4 percent from the 89,400 starts in December, and about even with the 94,100 starts in January 2014.This means that even with the recent years' increases in home values, employment and economic stability, a large number of homeowners still face the loss of their homes in the near future.
Not all of these foreclosure starts will result in families losing their homes; some homeowners will catch up on payments when their employment picture improves, and some will sell their homes before the lender completes foreclosure. Nevertheless, an uptick in the number of foreclosure starts is not something you'd expect to see in an economy that is purportedly on the mend.
House Prices are Up
Home prices notched some healthy increases in parts of 2013 and 2014, possibly rescuing some people whose homes had been upside down (in other words, they owed more on the mortgage than the house is worth). But with the price slowdown that has been reported in late 2014 and so far in early 2015, hopes of salvation by appreciation diminish.
The Case-Shiller Index, perhaps the nation's most reliable barometer of the housing market's health, revealed last week that the nation's home prices averaged a 4.6-percent increase in 2014, the smallest since 2011. (I believe that this figure represents a healthy growth rate for the real estate market. -TB)
A slowed-down recovery will be rough on homeowners who had hoped to sell this year if the price climbed up to a point where they could afford to sell. It's worse news for the homeowners who were barely hanging on to their homes and have now had foreclosure actions started by their lenders.
Also contributing to the potential for an upswing in foreclosures in 2015 is the fact that many of the solutions offered to homeowners in response to the housing meltdown of the mid-2000s were temporary. Some two million homeowners who received loan modifications through the federal government's Home Affordable Modification Program or other means are due for resets of their interest rates this year. Their payments will go up and, for the most part, they'll go up faster than the values of their homes. (Just one more example of the unintended consequences of government intervention. What say you D.R.? -TB)
One reason for the recent increase in foreclosure starts may be that the hump is behind us: lenders and servicers were swamped with distressed loans a few years back, and many let large numbers of nonperforming loans hang in limbo while they worked on other problems. The so-called 'foreclosure free ride,' or the length of time that distressed homeowners got to stay in their homes as foreclosure proceeded, grew to more than three years in states like Illinois and New York.
Now, with mortgage servicers facing fewer distressed borrowers (A positive sign. -TB) and with more experience handling them, one would reason that the servicers might be more adept at reaching resolutions with struggling homeowners in order to avoid foreclosure. However, the recent spike in foreclosure starts suggests otherwise. At American Homeowner Preservation, we have found that presenting borrowers with simple, easy-to-understand solutions is effective. Skip the mind-numbing paper circus in which borrowers are required to furnish tax returns, financial statements, hardship letters, and a myriad of other documents. Just reduce the payments, discount the principal balances, and process with urgency and transparency.
Otherwise, foreclosures are ready for a comeback.